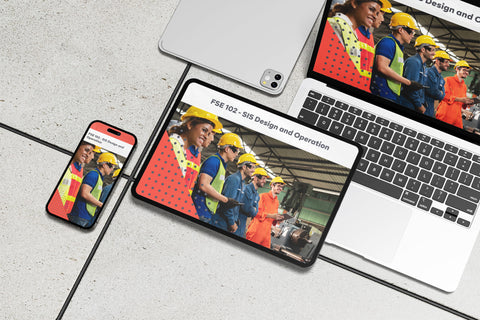 SELF-PACED: FSE 100 - IEC 61511: Functional Safety Analysis, Design, and Operation (FSE 102 - SIS Design and Operation)
Pickup currently unavailable
exida offers convenient self-paced online training for those wanting to take their courses remotely.
FSE 100 - IEC 61511: Functional Safety Analysis, Design, and Operation is broken up into two sections:
FSE 102: SIS Design and Operation
This section is Part 2: FSE 102: SIS Design and Operation
It is required that you take FSE 101 - Safety System Analysis in order to take the FSP exam at the end.
Purchasing exida's Safety Book Package is also highly recommended as many of the exercises and course content are referenced in these books.
---
Part 2: FSE 102 - SIS Design and Operation
Looking to become a CFSE or CFSP?  This is the course you'll need to pass the exam!
Also known as FSE 100, this course provides an overview of process industry safety engineering from the point of view of the Risk Analyst, Process Safety Coordinator, and Control Systems Design Engineer.
It delivers a complete overview of the functional safety lifecycle. The course reviews Process Hazard Analysis (PHA), Consequence Analysis, Layer of Protection Analysis (LOPA), Safety Integrity Level (SIL) Target Selection, Safety Requirements Specification (SRS) generation, failure rates, device and system reliability, SIF verification, SIF detailed design and Operations requirements.
The purpose of FSE 102 is to set the stage for the safety lifecycle as a sound, logical and complete way to use safety instrumented systems to manage process plant risk. It goes on to present the basic techniques for analyzing risk and developing the requirements for any safety instrumented functions needed to reduce the risk to a tolerable level.
It Covers:
Safety Instrumented Systems (SIS) failure
From failure rate to SIL
Single devices to system
Redundant Architectures
Requirements to SIF
SIF Design and Verification in the Safety Lifecycle
SIF Detail Design
Operations
Length: 8 Hours
Access Time:  60 Days
---
The exida Academy Functional Safety Practitioner (FSP) Certificate Program
The Functional Safety Practitioner (FSP) program is a certificate program that addresses a growing need to provide confirmation that an attendee showed competency by retaining the knowledge presented in the training class.
The FSP program will also provide an analysis of where the candidate's strengths and weaknesses lie. This program will also help a participant judge their competency level if interested in obtaining a certification like the CFSE or CFSP.
The FSP Exam:
The exam will be given at the conclusion of FSE 102 and is optional. Therefore if you wish not to participate please let your instructor know. The candidate must achieve a minimum of 80% on the exam in order to receive their FSP certificate.
This course forms a broad review in preparation for the Certified Functional Safety Expert (CFSE) and Certified Functional Safety Professional (CFSP) process industry application engineering exams.