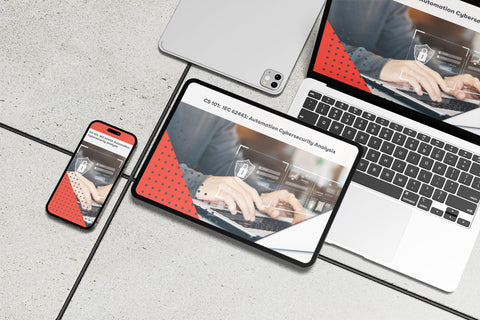 SELF-PACED: CS 100 - IEC 62443: Automation Cybersecurity Analysis, Design, and Operation (CS 101: IEC 62443: Automation Cybersecurity Analysis)
Pickup currently unavailable
exida offers convenient self-paced online training for those wanting to take their courses remotely.
CS 100 - IEC 62443: Automation Cybersecurity Analysis, Design, and Operation is broken up into two sections
CS 101: IEC 62443: Automation Cybersecurity Analysis
This section is Part 1: CS 101: IEC 62443: Automation Cybersecurity Analysis.
It is required that you take this before CS 102: Automation Cybersecurity: Applying IEC 62443 in order to take the CSP exam at the end.
Purchasing exida's Cyber Book Package is also highly recommended as many of the exercises and course content are referenced in these books.
---
Looking to become a CACE or CACS?  This is the course you'll need to pass the exam!
A recent global security survey showed that 90% of automation systems in critical infrastructure applications experienced a damaging cyberattack within the last two years. Cybersecurity has quickly become a major priority for automation systems of all types and sizes, especially for Safety Instrumented Systems.
This course provides an overview of the automation cybersecurity lifecycle. The course reviews cybersecurity risk assessment, developing zones and conduits, cybersecurity requirement specification (CSRS), designing secure systems, Security Level Determination and Verification, detailed design considerations, and operations requirements. Detailed workshop problems are used to provide students with practical cybersecurity experience.
Skills You Will Learn:
How a lifecycle approach improves cybersecurity readiness
How to conduct cybersecurity risk assessments to match risk profile
How to effectively segment automation systems
Actionable steps to "harden" your automation system today
How to perform Security Level Verification
How to implement a cybersecurity management program for continuously improving security
How to monitor cybersecurity during the operations and maintenance phase
How to align cybersecurity with existing automation lifecycles
This course forms a broad review in preparation for the Certified Automation Cybersecurity Expert (CACE) and Certified Automation Cybersecurity Specialist (CACS) automation application exam.
This course contains extensive workshop case studies to further cement the learning in a practical nature.
Course Topics:
CS 101
ICAS Cybersecurity Introduction
Industry Standards
IEC 62443 Certification
Principles of Risk Management
Types of Attacks
Types of Threats
Integrated Lifecycle
CSMS
Cyber Hygiene
High-Level Risk Assessment
CVA & DLRA
Length: 8 Hours
Access Time:  60 Days
---
The CSP Exam (Automation Specialty):
The exida Cybersecurity Practitioner (CSP) program is a certificate program that provides confirmation that an attendee shows competency by retaining the knowledge presented in this course. The CSP program also provides an analysis of where the candidate's strengths and weaknesses lie, helping participants judge their competency level if interested in obtaining a certification like the CACE or CACS.
The exam will be given at the conclusion of the training course and is optional. Therefore, if you wish not to participate, please let your instructor know. The candidate must achieve a minimum of 80% on the exam in order to receive their CSP certificate.