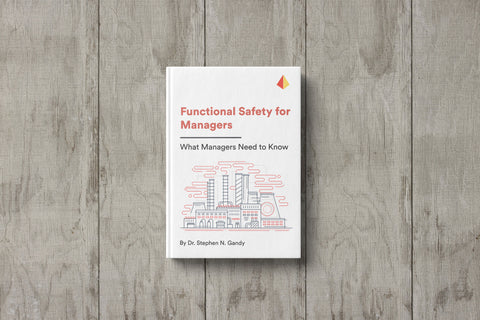 Functional Safety for Managers
Pickup currently unavailable
Functional Safety for Managers, What Managers Need to Know is a practical guide that clearly presents and explains the importance of Functional Safety Management, as well as having well defined Key Performance Indicators to track and manage performance.
In particular, by:
Developing Functional Safety Management (FSM) processes and procedures that are easily understood and followed, to manage and maintain functional safety;
Having a well-defined and implemented Functional Safety Management Plan (FSMP), with the accompanying functional safety audits and functional safety assessments to ensure compliance with IEC 61511;
Defining roles, responsibilities and competencies of those individuals with key safety lifecycle responsibilities;
Defining Leading and Lagging Indicators for management to track and monitor performance to maintain functional safety;
Understanding the importance of preventative maintenance of Safety Instrumented Systems (SIS) in maintaining safety;
Managers should consider the techniques and methodology defined in this book as a guide to help with increasing knowledge and competency.
Hardcover, 181 pages
ISBN-13: 9781-934977-19-4
Publish Date: September 22,2020
 * Please note, customs duties and taxes may apply outside of the US. exida will not refund any books that are refused delivery.