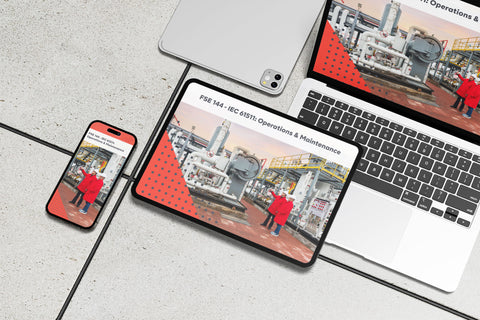 SELF-PACED: FSE 144 - IEC 61511: Operations & Maintenance
Pickup currently unavailable
exida offers convenient self-paced online training for those wanting to take their courses remotely.
In this course, the student develops an understanding of the requirements for operations and maintenance in IEC 61511. You will also understand the importance in the functional safety lifecycle and how good and bad maintenance impacts the performance of the SIS and its SIFs.
Course Syllabus
Develop basic back end safety lifecycle skills to:

Understand the operations and maintenance requirements for the SIS and its SIFs
Follow useful life of devices, replacing when expired
Performing proof testing on time
adhering to Mean Time To Restore (MTTR)

Introduction, purpose and concepts of the Safety Instrumented Systems
Roles and Responsibilities
Competency matrix
Understanding how Useful Life affects SIL and SIF performance
Understanding the importance of Mission Time
Performing periodic SIF performance assessments
Phases of the safety lifecycle overview
(IEC 61511 primary focus, with references to IEC 61508
SRS maintenance

Ensuring the SRS is updated after any approved changes

Management of Change and mechanical integrity

Undertaking on-line or off-line maintenance
Equipment replacement
Routine calibration, inspection

Periodic Personnel Assessments
Who Should Attend?
Maintenance and Instrument Technicians
Engineering and operations management
The FSP Exam (Operations & Maintenance Specialty):
The exida Functional Safety Practitioner (FSP) program is a certificate program that provides confirmation that an attendee shows competency by retaining the knowledge presented in this course. The FSP program also provides an analysis of where the candidate's strengths and weaknesses lie, helping participants judge their competency level if interested in obtaining a certification like the CFSE or CFSP. The exam will be given at the conclusion of the training course, and is optional. Therefore if you wish not to participate, please let your instructor know. The candidate must achieve a minimum of 80% on the exam in order to receive their FSP certificate.
Length: 4 Hours
Access Time:  60 Days
Presenters:  Jim Jenkins