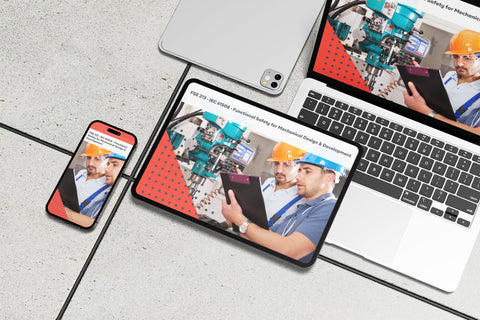 SELF-PACED: FSE 213 - IEC 61508 - Functional Safety for Mechanical Design & Development
Pickup currently unavailable
exida offers convenient self-paced online training for those wanting to take their courses remotely.
The IEC 61508 family is a performance-based set of standards for functional safety that are commonly applied to the design and development of automatic protection systems in a variety of applications (process industry, industrial / machinery equipment, medical devices, railway, mining, etc.). These standards do not present prescriptive solutions at the safety function level, but instead specifies the use of common performance metrics for characterizing reliability and design integrity. This course provides an overview of IEC 61508, the functional safety lifecycle, and how to design/develop products and systems that meet 61508 requirements. It guides the product design/development team through a 61508-compliant development process which has proven to bring better products to market, at reduced cost, and with shorter time-to-market.
To achieve market success and comply with 61508, products and systems should be designed to minimize systematic failures (design faults and documentation mistakes) and random failures of hardware/software based on probabilistic performance-based evaluation. The class describes how to accomplish this goal, traversing the development process from product conception to release for production. It covers the establishment of design goals, the use of functional safety (quality) management plans, evaluation of architecture design, detailed design (including FMEDA), derived safety requirements, integration / validation testing, safety manual documentation, and how to evaluate field failure data. It focuses on how to evaluate the results at each stage of the lifecycle to understand what it means and to take appropriate actions (add redundancy, add diagnostics, increase design strength) as part of an iterative design process. It stresses how to detect design deficiencies early in the process so that they can be corrected with minimal impact to cost and schedule. It also highlights how to document the results of the design process to make it easier to demonstrate 61508 compliance to a certification body.
Learning Objectives
Create a Functional Safety Management plan to manage project documentation, tasks and deliverables
Create / Review Product Safety Requirements to ensure traceability and flow-down to detailed design tasks
Evaluate / Interpret Risk Analysis to set product design goals
Create / Evaluate Safety Requirement Specification (SRS)
Select and Justify Engineering Tools for use in the Product Development process
Perform / Evaluate FMEDA studies, Interpret Results, Document 61508 reliability parameters 
Perform Fault injection testing to confirm functionality, performance, and diagnostics
Estimate Proof Test Coverage
Define Applicable Environmental Profiles
Safety Reliability Analysis (optimize design strength in the device application)
Define effective Integration and Validation test plans, Create / execute detailed test procedures
Evaluate Field Failure data to estimate performance accurately 
Who Should Attend: 
Mechanical Product Designer / Developers
Safety Engineers
Reliability Engineers
Development Engineers
Control Engineers
The FSP Exam (Safety Hardware Development):
The exida Functional Safety Practitioner (FSP) program is a certificate program that provides confirmation that an attendee shows competency by retaining the knowledge presented in this course. The FSP program also provides an analysis of where the candidate's strengths and weaknesses lie, helping participants judge their competency level if interested in obtaining a certification like the CFSE or CFSP. The exam will be given at the conclusion of the training course, and is optional. Therefore if you wish not to participate, please let your instructor know. The candidate must achieve a minimum of 80% on the exam in order to receive their FSP certificate.
Length: 12 Hours
Access Time:  60 Days
Presenters: Dr. William Goble, Michael Medoff, Dr. Steve Gandy, Dave Johson, Rudy Chalupa, Jonathan Moore